Virtual Consultation
free
Ortho Records
$153
Panorex
Cephalometric
Complete oral Exam
Intra Oral Photos
Intra Oral Scan
Orthodontic Assessment of teeth and jaw position
Full Treatment Plan
Orthodontic Treatment
$4995
Maximum Cost: $4995
Promotion ends December 31, 2023
*1 set of retainers included (fixed or removable)
Suresmile Clear Aligners Ottawa, Greely ON
Clear Aligners Before and After
What are SureSmile® Clear Clear aligners?
SureSmile® has more than 20 years of experience providing orthodontic treatment solutions and is backed by Dentsply Sirona, a global leader in dental solutions, with over 100 years experience in oral healthcare. SureSmile® Clear Aligners are a desirable alternative to traditional metal braces for straightening teeth. When you choose to use clear aligners, a series of progressive aligners are designed to shape your smile. These smooth and comfortable aligners place a small amount of tension on your teeth, gradually pulling them into the desired position over time. Each aligner in a series gradually progresses to your ideal smile and tooth position.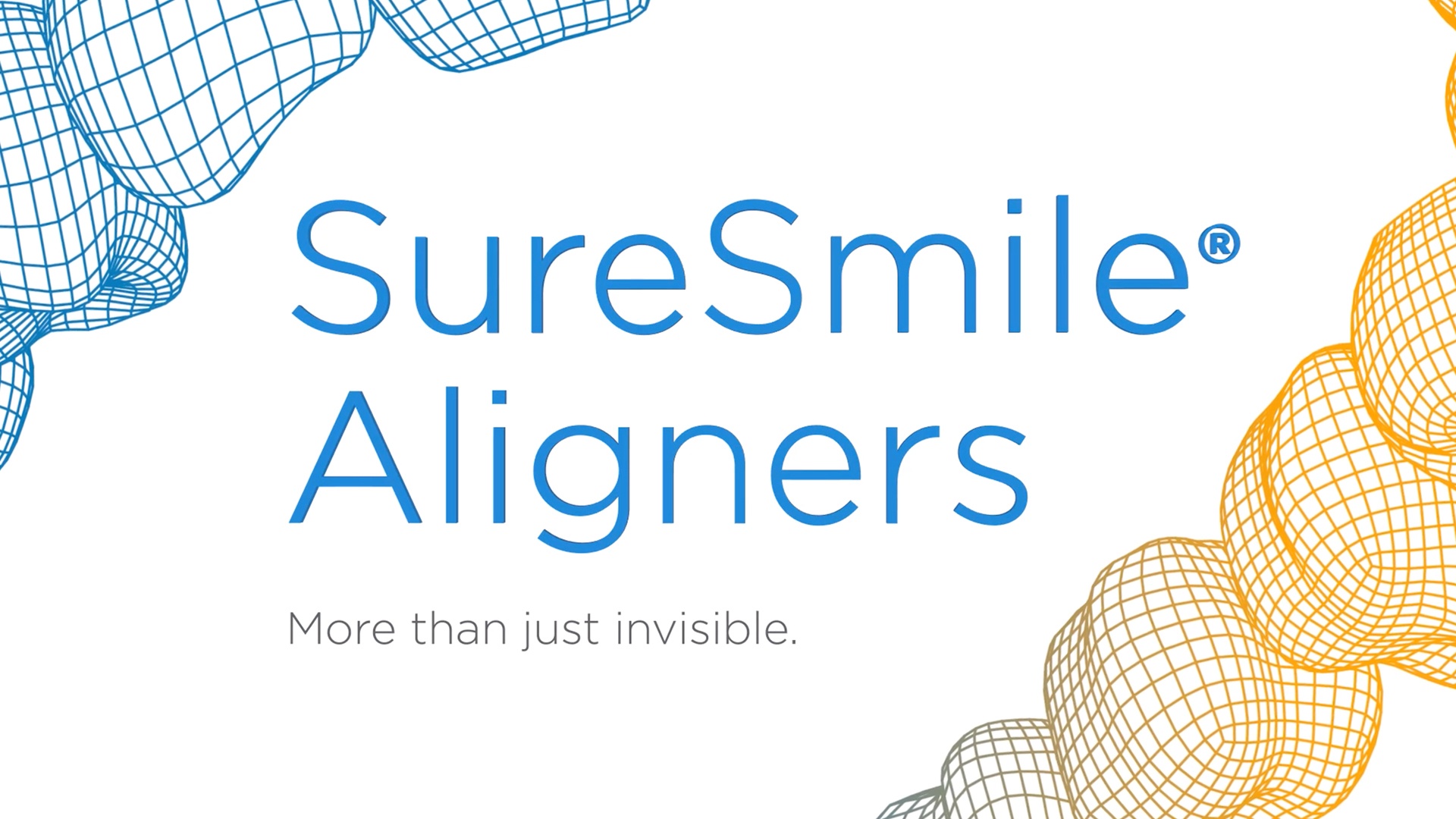 What Can I Expect When Starting SureSmile®Clear Aligners?
The first step in straightening your teeth is a virtual consultation with Dr. Robert Liu where you will be submitting photos. Dr. Robert Liu will then ask you to come in for ortho records should your case be a case that can be taken on by Dr. Robert Liu. At this visit, our office will perform an examination and take dental x-rays to assess the current health and alignment of your teeth. Dr. Liu will then determine if you are a good candidate for clear aligners and the expected results of this treatment. If Dr. Liu determines you are a suitable candidate for clear aligners, he will write a prescription which is sent to SureSmile®. Clear aligners will then be individually crafted to mold and move your teeth. Once your aligners are created, our office will confirm they fit your mouth correctly and comfortably and go over a simple treatment process to achieve the desired results.
Are you a Good Candidate for SureSmile® Clear Aligners?
Clear aligners are best used to treat mild to moderate alignment issues. If your teeth are severely misaligned, if you have one tooth that significantly overlaps another, or if you have serious occlusion problems, you may need metal braces or different cosmetic dentistry procedures to aid in correction. Dr. Liu can help you address any dental concerns that may prevent you from benefiting from clear aligners and assist you in developing an alternative aesthetic dentistry plan to achieve your desired smile.
Benefits to Choosing Clear Aligners Over Metal Braces
For many years, metal braces were the single option to straightening teeth. Clear Aligners are a new alternative with many benefits to consider.
Comfort and Discretion of Clear Aligners
Many patients would love to straighten their teeth, but are uncomfortable with the idea of bulky metal braces. The brackets, wires, and daily discomfort scares off many patients for fear of embarrassment.
Clear Aligners allows for a more discrete and comfortable alternative. Patients who use clear aligners can slip on the clear aligner and smile and talk comfortably. The transparent aligners are virtually unnoticeable and easy to forget. Some people feel a slight pressure on their teeth, this is normal and means the teeth are being realigned.
Ease of Cleaning and Maintenance of Clear Aligners
Metal braces require a lot of maintenance and cleaning. Flossing and cleaning in between brackets is very important and tedious. There is also the constant fear of food being stuck in your braces while out in public. Clear Aligners are quick to remove which makes eating, brushing, and flossing less of a burden. You can place your aligners back in your mouth once you are finished eating or brushing. These aligners reduce the risk of having food trapped behind wires and brackets which allows for a healthier smile.
Are Clear Aligners a Good Investment?
Clear Aligners still requires a significant amount of time and resources to be an effective alternative to traditional metal braces. Can these clear aligners make a significant impact to be worth their investment?
Improved Appearance with Clear Aligners
Clear aligners straightening treatments will improve the overall appearance of your smile. Even minor adjustments can affect the alignment of your teeth. Straightening your smile can have a tremendous impact on your self-esteem and comfort.
Better Health
Straighter teeth are healthier teeth! Teeth that are not correctly aligned have a greater chance of trapping food and plaque in hard to clean spaces. When teeth are straightened, they are easier to brush and floss, reducing the buildup of harmful bacteria.
Why Choose Dr. Liu?
Dr. Robert Liu is very passionate about being a general dentist. Being a general dentist allows him to provide general care to all his patients; meanwhile, he is able to spend a lot of time focusing on orthodontics. Dr. Liu takes his work very seriously and he is always trying to bring new technology to his practice to enhance patient experience.
Orthodontics is a field in dentistry that addresses the diagnosis, prevention, management and correction of teeth and jaw relationships that have misaligned bite patterns. Dr. Liu is very passionate about orthodontics and he has been trained and mentored on a bi-weekly basis by an amazing orthodontist for over 3 years. This training has focused on the use of a Damon Braces (new bracket technology). He believes in correcting these misaligned bite patterns for good health, and most importantly, this will perfect your smile.
In order to promote good health, Dr. Liu always offers orthodontic promotions with Damon Braces and SureSmile® Clear Aligners. Dr. Liu provides exceptional dental services for his patients in Ottawa and surrounding areas. He can provide you guidance and knowledge regarding any of your orthodontic needs and any other cosmetic dental procedures you may be considering.
Our office takes pride in making our patients comfortable and secure with all their dental decisions. To learn more about Damon Braces and Suresmile clear aligners or any other services Dr. Liu offers, please give our office a call today.
DR. ROBERT LIU OTTAWA'S CLEAR ALIGNER DENTIST
Why choose Clear Aligners?
*Eligibility and final pricing determined upon examination
**As general dentists, we treat simple to moderate orthodontic cases. We work very closely with
neighboring Orthodontists to get you the smile you deserve.